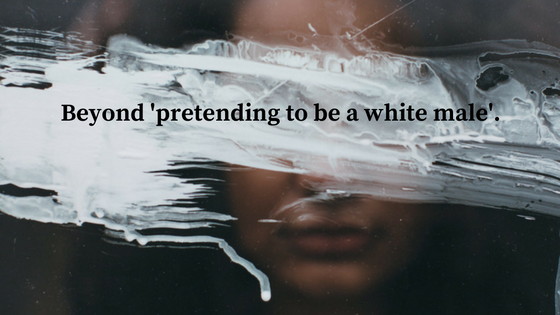 This blog troubles me sometimes. I want to write and publish so much, but I can't right now. {I'll explain later.}
There are things I can write about, but in a lot of ways I'm still negotiating with my fears every time I come up with an idea for a blog post that might mention sex. Or ex-boyfriends, relationships. Or if I write about what it's like dealing with PTSD at work. Or if I put a swear, like 'fuck' in a post…
As you can probably tell, my relationship with these fears is a little combative. I see the fears, I know they're there, but I like giving them the finger. They are personified in my life by the people I work with, my parents and extended family.
I've been reading Julia Cameron's book The Artist's Way and am on week one. The intention for this week is about recovering a sense of safety. I've read through the chapter a couple times. It started to come to me before I bought the book, but after reading it through the first time, I'm realizing how important it is that I say whatever it is that I want to say. To write and publish anyway.
'Pretend you're a white male'. I heard the joke and chuckled. But in order to move forward, keep writing, publish posts, sing, read out loud, I still play pretend.
I've started to imagine myself as a protector, standing guard as my inner child plays, dances, reads, whatever. I have a spear in one hand and leave the other free. And I'm watching. Though most of the time, I have to guard myself against my own imagined fearful thoughts.
self-protection takes on a new meaning.
This image hits home for me because it reminds me of the people who were supposed to play that role in my life. It mainly reminds me of my father, who invited a man into our house who had touched me inappropriately in church when I was a teen. The man had never had reason to visit our house before that happened, and he never visited afterward.
Not being safe, for me, wasn't just about singing even if cousins or my sister told me to shut up. It wasn't about writing a letter that would get me in trouble, or telling my father to his face that he was an alcoholic even though I knew he'd probably try to beat me if I did.
Not being safe was about not having people who encourage, defend, protect. Being out alone as if in a field with predators I couldn't see. It's a feeling that something was going to happen, there was some danger, but there was nothing I could do — nowhere to hide except to get down. Get as flat to the ground as possible. Do anything but stand out.
I will not have my life narrowed down. I will not bow down to somebody else's whim or to someone else's ignorance. -bell hooks
Other people, the ones who write and publish blogs regularly and have followings, who say what's on their mind and who have stood up to say they've been assaulted (by the types who think they can do anything because they're famous and the types that don't), I imagine those people have a whole army behind them. One or two persons are very close to them and help them feel safe. They amaze me, those people and their people.
In reading this chapter of The Artist's Way, I have decided that I do not want to add my voice to those who told me to 'shut up', ignored me or dismissed what I felt. I wanted to fight those fears more, sing more, write more, everything more. It was an easy decision, and I'm grateful for that.
I love myself enough to even pay attention to the frantic voice that would convince me I'm in danger, that would paralyze me with thoughts of what this person might think, or what would happen if that person read this. It needs to be heard too, but it also needs to be put in its place.
how I know when I feel safe
I'll never feel completely safe.
I don't expect to completely 'recover a sense of safety' (partly because I don't remember ever having that sense to begin with). It's a part of myself I've learned to accept. I'm even curious about it — maybe there's a way to work with it, find out if there's a reason for its existence.
To move forward with doing the things I most want to do I've created an idea of what a basic sense of safety feels like, and am imagining my way towards it.